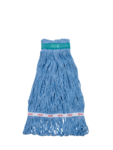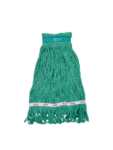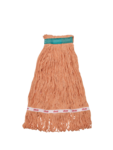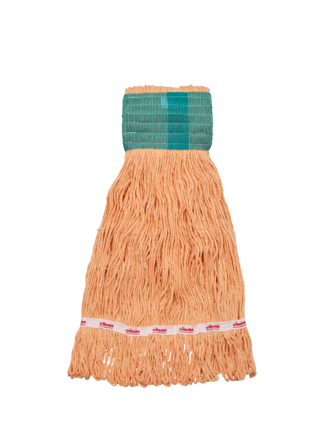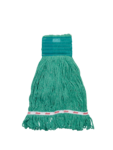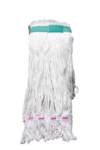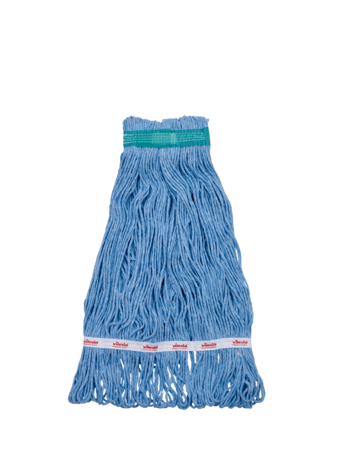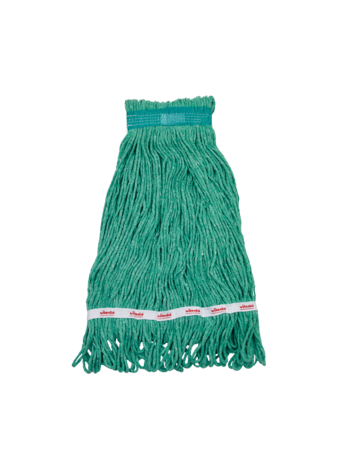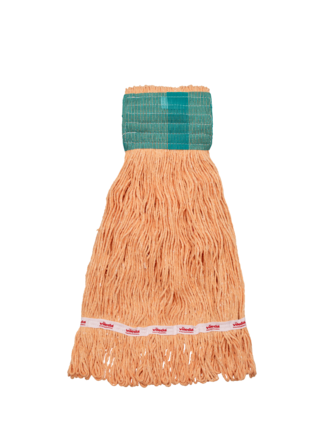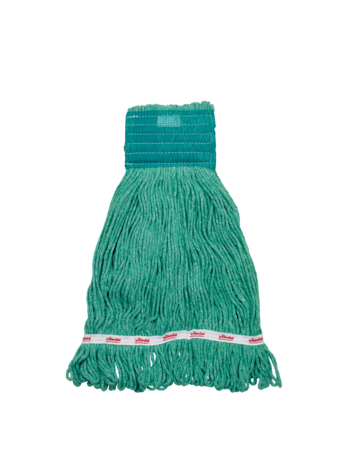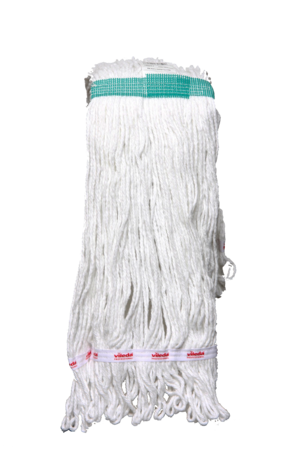 Looper Loop Mops
• The best choice available in traditional wet mopping.
• Ideal for hospitals and nursing homes where high standards and strict requirements are easily satisfied.
• Made from a unique blend of yarn that enables superior absorbency while withstanding repeated commercial laundering up to 60 times.
• Heavy duty poly coated headband mesh withstands harsh chemicals, launderings for the life of the mop and abuse when headband is used as a scrubber.
• Looped-end construction allows for maximum floor coverage while eliminating tangling, fraying and linting.
• Made without any cotton fiber
• Avoid cross-contamination with colour coded mops.
• Available in 3 colours – 5 ply yarn.
• All mops are individually poly-bagged.
• Available in both narrow band (4.3 cm / 1.75 in) and wide band (12.6 cm/ 5 in).
Recommended frame:
Narrow Band
• Snap-N- Go
• Quick Change
Recommended frame:
Wide Band
• Snap-N- Go
• Jaw Breaker
| Description | Color | Size | Art.no Case | Packs/case | Art.no. Pack |
| --- | --- | --- | --- | --- | --- |
| String_Mops_Loop_Looper | blue | Small | 134884 | 12 | 135229 |
| String_Mops_Loop_Looper | green | Small | 134885 | 12 | 135228 |
| String_Mops_Loop_Looper | orange | Small | 134886 | 12 | 135227 |
| String_Mops_Loop_Looper | blue | Medium | 134878 | 12 | 135235 |
| String_Mops_Loop_Looper | green | Medium | 134879 | 12 | 135234 |
| String_Mops_Loop_Looper | orange | Medium | 134880 | 12 | 135233 |
| String_Mops_Loop_Looper | blue | Large | 134871 | 12 | 135241 |
| String_Mops_Loop_Looper | green | Large | 134872 | 12 | 135240 |
| String_Mops_Loop_Looper | orange | Large | 134873 | 12 | 135239 |
| String_Mops_Loop_Looper | blue | X-Large | 134893 | 12 | 135221 |
| String_Mops_Loop_Looper | green | X-Large | 134894 | 12 | 135220 |
| String_Mops_Loop_Looper | blue | Small | 134887 | 12 | 135226 |
| String_Mops_Loop_Looper | orange | Small | 134891 | 12 | 135222 |
| String_Mops_Loop_Looper | blue | Medium | 131598 | 12 | 131601 |
| String_Mops_Loop_Looper | green | Medium | 134882 | 12 | 135231 |
| String_Mops_Loop_Looper | orange | Medium | 134883 | 12 | 135230 |
| String_Mops_Loop_Looper | blue | Large | 134874 | 12 | 135238 |
| String_Mops_Loop_Looper | green | Large | 134876 | 12 | 135237 |
| String_Mops_Loop_Looper | orange | Large | 134877 | 12 | 135236 |
| String_Mops_Loop_Looper | blue | X-Large | 134896 | 12 | 135218 |
| String_Mops_Loop_Looper | white | Medium | 134854 | 12 | 135258 |
| String_Mops_Loop_Looper | white | Large | 134850 | 12 | 135262 |