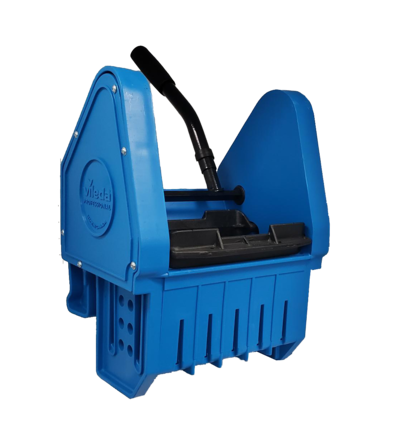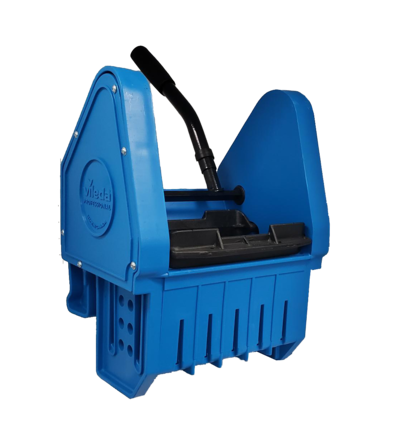 Downpress Bucket/Wringer
The Downpress wringer is injection molded with high density polymer and features a strong durable smooth surface that is easy to clean and sanitize. Color: blue

• Unlike foam plastic wringers, our wringer does not provide a breeding ground for bacteria.
• Gears and pressure plates are fiber reinforced nylon which allows for quiet and smooth operation.
• Eliminate the need to stock various sized wringers. The wringer is designed to effectively wring all wet mops from 340 g to 900 g / 12 oz to 32 oz.
• The downward pressure style is especially designed to "better" wring all mop heads and engineered to force water directly into the bucket.
• Available in a choice of 3 attractive colours to co-ordinate with our buckets.
| Description | Color | Size | Art.no Case | Packs/case |
| --- | --- | --- | --- | --- |
| Downpress wringer (blue) | blue | 330x600x240cm | 134710 | 1 |
| Downpress wringer with prison security (yellow only, Special Order) | yellow | 330x600x240cm | 134714 | 1 |
| Downpress wringer (grey) | grey | 330x600x240cm | 134711 | 1 |
| Downpress wringer (yellow) | yellow | 330x240x600cm | 134713 | 1 |