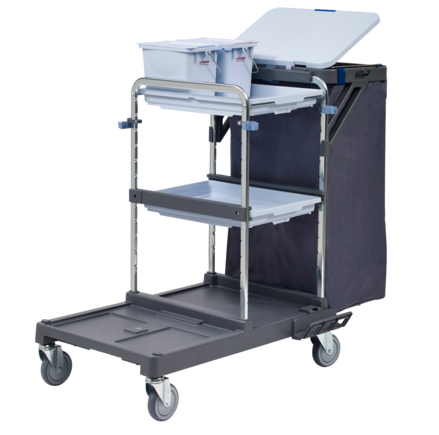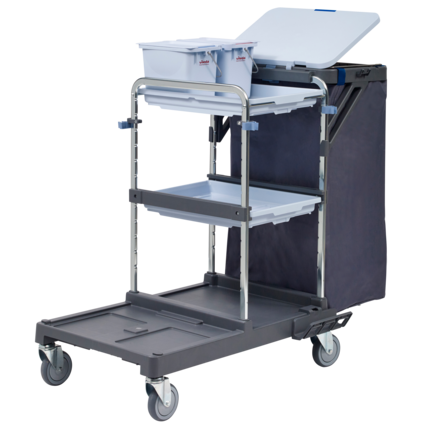 Origo 300 FX
Origo 300 FX
Origo 300 FX
Origo 300
Modular version based on plastic plate
F = with working platform (e.g. UltraSpeed)
X = Extension for waste collection
Suitable for General Building Cleaning.
Available with plastic base plate and metal frame.
The Origo 300FX is an entry level trolley designed for general use in all cleaning environments. It comes complete with a waste collection and storage area for all your cleaning utensils – Suitable for the Swep, UltraSpeed and UltraFlex Systems.
Includes
• 1 x Plastic Bin bag holder with support bars
• 2 x full trays (120813)
• 2 x six liter buckets (120943) with 1 set red color clips, 1 set blue color clips
• 4 x 125mm/4 1/4 in turning casters (513233)
• 1 x handle holder (120812)
• 1 x Frame holder set for Origo 300 (120816)
• 1 x Extension support for laundry/garbage bag (122555)
• Bin bag sold separately 514792
• Assembly required
| Description | Color | Size | Art.no Case | Packs/case |
| --- | --- | --- | --- | --- |
| ORIGO 300 COVERING DOOR-one panel | grey | 40 x 75 cm | 127477 | 1 |
| ORIGO 300 COVERING DOOR-one panel | grey | 48 x 72 cm | 127479 | 1 |
| 300 COVERING REAR WALL-One panel | grey | 38 x 75 cm | 127481 | 1 |
| Origo 300FX Complete Cleaning Cart | grey | 126 x 68 x 100 cm/50 x 23 x 39 1/2 in | 147624 | 1 |
| ORIGO 300 COVERING DOOR-one panel | grey | 40 x 75 cm | 127477 | 1 |